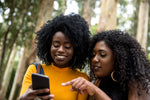 6 Curl Defining Methods for a Poppin Wash & Go
               6 Curl Defining Methods for a Poppin' Wash & Go !
We all love a popping wash & go and we know that curl definition is key! There are many ways to achieve the curl definition that you desire. Let's get into the top methods:
1.Shingling
This technique will provide you with maximum curl definition; you literally separate each strand and define your curls individually. Use a leave-in conditioner along with a curling cream or gel and distribute the product on every single strand. This will result in minimal frizz and very defined, bouncy curls. The only downside is that this can be very time consuming since you're doing tiny pieces of hair at a time. If you're not in a rush, give the shingling method a try!
2.Raking
Raking is when you gently run your fingers through your curls, smoothly distributing the product(s). This method will help with the detangling process. It doesn't take too long so this is perfect for all the lazy naturals plus the results are lovely! 
3.Finger curling or coiling
For this method, you'll create small sections and basically wrap your hair around your finger. Start from the ends and coil your way up to the root. Finger curling or coiling is ideal for the ladies rocking a TWA, it doesn't take too long since your hair is short and the outcome is gorgeous. It also looks beautiful on longer hair, just keep in mind that the longer your strands are, the longer it will take. 
4.Smoothing
Before you begin the smoothing process, make sure your hair is clean and detangled. For this method, you will section your hair and smoothly run your hands downward, making your hair fall in the same direction. If you want loose or big curls, separate the hair into bigger sections. If you're going for tighter curls, separate and smooth your hair in smaller sections. This is a very easy and quick technique to use for defining your curls.
5.Curly Girl Method
The purpose of this method is to provide maximal definition and hydration without making your hair feel heavy. There are a few do's and don'ts that you should know before trying the CGM⇩
Do's:
Do use a sulfate-free shampoo or a gentle cleanser 

Do use a moisturizer and a sealant to lock in the moisture

Do air dry
 Don'ts:
Don't use any heat styling tools

Don't use combs or brushes; use those fingers sis!
Now that you know what and what not to do, you can start finger sectioning your hair and applying a leave-in conditioner or moisturizer of your choice. Not required, but you can also add a styling gel if you'd like. All you have to do is distribute the products to each section until you cover the full head. Then, you just let your hair air dry. Remember not to use any heat styling tools, diffusers included. I know it's tempting but even using low heat defeats the whole purpose of this method. 
6.Tight Curly Method
To achieve definition using the Tight Curly Method, you're going to need a lot of conditioner and a Denman brush or paddle brush. First, you want to part your hair in sections and apply conditioner to each section. Don't be afraid to use a lot of conditioner because that is what will make your curls super shiny and defined. After you've applied the conditioner to your whole entire head, you should start brushing and allow your curls to clump together. Once all of the curls are clumped, you can finger comb and smooth your hair or you can twirl each curl around your finger. Doing this method will result in lustrous and sheeny curls.
All six methods work well for defining all curl types. Some are quick and some are a little more time consuming. Being a natural means finding what works best for your hair so just give these methods a try and see which one you like the most. 
For soft and juicy curls, be sure to try our Aloe Leaf Juice + Castor Oil Curl Defining Custard. https://www.cocopiecurls.com/products/aloe-leaf-juice-castor-oil-curl-defining-custard